Nikon Coolpix P1000 Digital Camera
Nikon Coolpix P1000 – The one with the 125x
Optical Zoom lens!
Nikon has just announced the Coolpix P1000. This 16.79MP bridge camera succeeds the P900, with its 83x optical zoom. This time, the photography giant has expanded the range to an incredible 125x optical zoom – now the biggest focal length range on the market by a long way! (as of July 2018)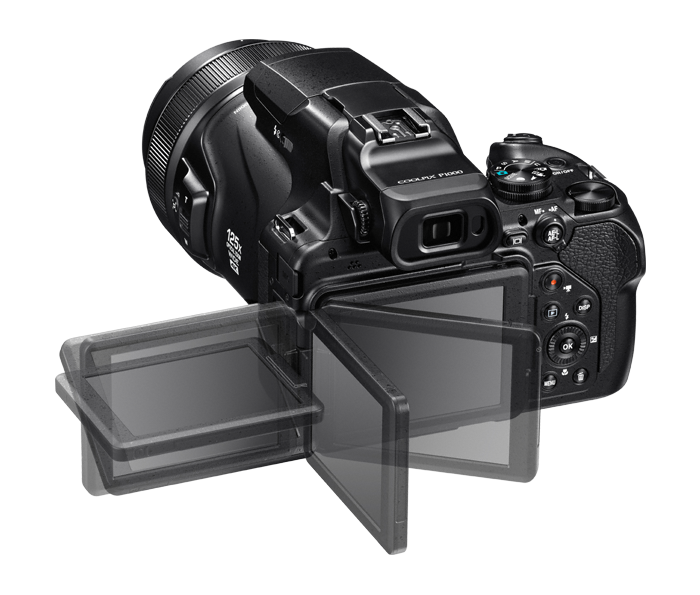 The huge 24-3000mm equivalent Nikkor lens starts at f/2.8 and goes up to f/8 at the 3000mmm end, while retaining effective autofocus. The lens itself consists of 17 elements, including five ED (extra low dispersion) and one super ED, which should help to minimise chromatic aberration as well as colour-fringing.
This the extra zoom length does make the body slightly bigger and the camera weighs in at 1,415g. However, although this is heavy for a compact, it's not at all bad given the huge zoom length available. Just like the P900, the body is similar in styling to a DSLR, with a deep hand grip, multiple external control options and a hotshoe that is compatible with Nikon Speedlights.
If you think that that huge 125x optical zoom still isn't enough, the P1000 features a 6000mm equivalent 250x Dynamic Fine Zoom. We can hardly credit what Nikon have achieved with this camera!
Of course, power is nothing without control and there is an increased risk of camera shake.  Nikon has addressed this with a built in 5-stop vibration reduction for ultra-steady shots. You can also now shoot in RAW (unlike the P900), giving you the best dynamic range possible and far more control when editing images in post-production.
For those who find such things helpful, Nikon have placed dedicated bird and moon modes on the mode dial, but Nikon hasn't stopped there. You can set a maximum zoom via a menu system on the rear LCD and once you've hit the OK button, the lens will automatically zoom to the selected focal length. This, paired with an ergonomically placed zoom toggle, should make it easier to acquire and reacquire targets.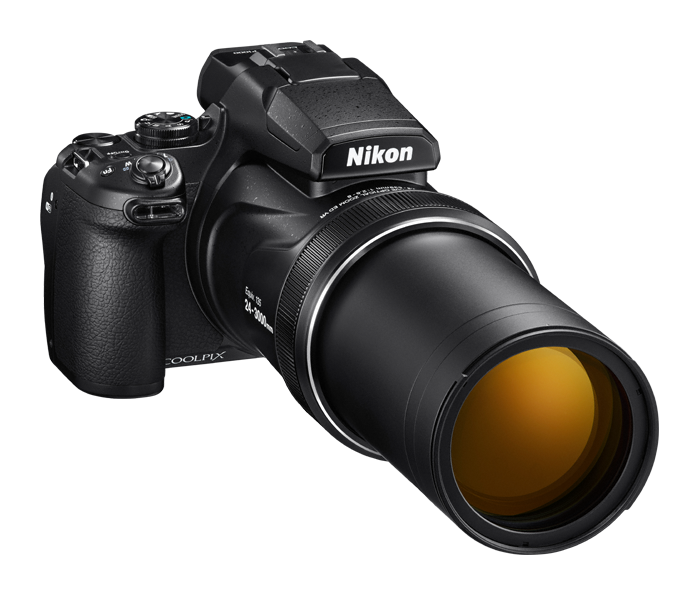 If you tend to use images straight from the camera, you can add a little something extra, thanks to built-in colour filters. Images can be transferred to and shared from your smart device via Nikon's SnapBridge app (iOS and Android), which utilises the P1000's built-in Wi-Fi and Bluetooth features.
The P1000's video features include being able to shoot 4K in ultra-high definition at 30fps, while the incredible reach of the lens system should make picking out unseen details a breeze. Both stills and video can be composed with the 2,359k-dot OLED viewfinder and 3.2in, vari-angle rear LCD screen.
First shipments will be arriving in September and we will be taking pre-orders from July 11th if you'd like to have one of the first cameras in the country. Make no mistake, this machine is a game-changer!